Canon establishes professional photographer Photo service center inside the Tokyo 2020 Main Press Center
TOKYO, July 19, 2021—Canon Inc. and Canon Marketing Japan Inc. announced today that the company will establish a photo service center for professional photographers in the Main Press Center (MPC), where members of the international press gather, during the Olympic and Paralympic Games Tokyo 2020 (henceforth, Tokyo 2020 Games) with the purpose of ensuring photographers are as best-equipped as possible to capture exciting and definitive moments of top-class athletes.
Professional photographers around the world require camera manufacturers to develop state-of-the-art technologies and top-class-performance equipment, as well as provide a comprehensive network of meticulous service and support.
Thus far, Canon has provided on-site support for press photographers, including camera and lens maintenance and technological support, behind the scenes at major sporting events around the world. The Tokyo 2020 Games are no exception—there too, Canon will apply its professional support know-how acquired over its long history in order to provide flexible and appropriate support for photographers and the various requests and equipment troubles they may have.
The Tokyo 2020 Games Main Press Center, located in the West Hall of the Tokyo Big Sight convention center, is expected to receive many members of the international press. As a Gold Partner of the Tokyo 2020 Games (still cameras and desktop printers), Canon aims to contribute to the successful operation of the event. With this goal in mind, the company will establish the largest camera photo service center of this event within the MPC.
At the photo service center, which will operate under the motto of "Zero Downtime" to ensure that photographers don't miss their chance at capturing decisive moments of this intense competition due to equipment trouble or other such problems, Canon will provide speedy maintenance service, equipment repairs and loaning of replacement equipment so that photographers can always be ready and in the best possible condition.
The Canon photo service center will provide such equipment as the company's professional flagship camera, the EOS-1D X Mark III, as well as the EOS R5 and EOS R6 mirrorless cameras and super-telephoto lenses. In addition, elite and highly trained staff will be working on-site to support photographers until the end of the closing ceremonies of the Tokyo 2020 Games.
In addition, Canon's remote camera system will be used at the event venues. The Robotic Camera System CR-S700R enables digital interchangeable-lens cameras (DILC) to be operated remotely, including the ability to adjust shooting angles, and can be installed and used in locations at the event areas where human photographers cannot access, such as from ceilings.
Canon strives to support photographers aiming to capture historic and powerful moments of top-class athletes engaged in fierce competition and contribute to the promotion and development of photographic culture. In addition, the company will support the efforts of the media to deliver to people around the world moments of passion and excitement during the sporting world's premiere event, thus contributing to the promotion of the Olympic and Paralympic movement.
*The Canon photographer service center will take thorough precautions against the spread of COVID-19 infections in order to ensure that photographers and staff may use and operate the booth safely and with peace of mind.
Reference: The white lens barrels that signify "L series" performance
The FD 800mm f/5.6 S.S.C. (released in June 1976) - Canon's first interchangeable lens to adopt the white coating
Canon adopts a white paint coating for its L-series telephoto and super-telephoto lenses.
Canon developed the signature white of its lens barrels as a tool for photographers at international sporting events. The first such lenses* produced by the company, the FD600mm f/4.5 S.S.C. and FD800mm f/5.6 S.S.C. large-diameter super-telephoto lenses, were released in June 1976.
Compared with standard lenses, super-telephoto lenses are much larger, and therefore more prone to the effects of sunlight and are frequently used under the intense heat of the summer sun.
In order to reduce the adverse effects that heat has on the lens' optical performance, Canon adopted its signature white coating for its lens barrels, which reflects heat more effectively than black. Canon continues to improve this technology through such improvements as a proprietary heat shield lens barrel coating used by the EF400mm f/2.8L IS III USM and EF600mm f/4L IS III USM lenses (released in 2018).
At various sporting events held worldwide, there is often a "sea of white" in the photographers' section—rows upon rows of professionals using Canon lenses. Among photographers, these lenses gained the nickname "white lenses," and the color white came to be known as a marker of a high-performance professional lens.
*Among lenses for interchangeable-lens cameras. The lenses were used with the TV2000mm f/11 super-telephoto lens (released in September 1960) for broadcast cameras for broadcasting baseball matches.
Reference: Realizing remote operation for DILCs that support on-location press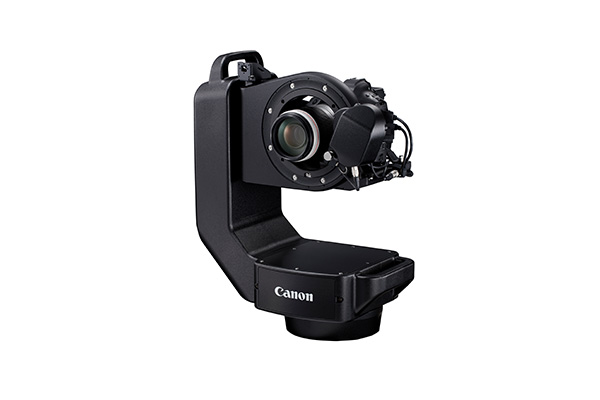 Remote still photography image capture solution
Robotic Camera System CR-S700R
For on-location press at sports matches and other events, remote camera technology enables still photography from perspectives and angles that would not be possible through conventional means. Allowing photographers to operate their cameras from a distance, this technology is becoming increasingly widespread.
In February 2020, Canon released the Robotic Camera System CR-S700R solution for capturing still photos using interchangeable-lens cameras* via remote operation.
The Robotic Camera System CR-S700R, developed in response to and in order to meet the needs of users worldwide, supports the still image capture for press photographers.
*Compatible with the following camera and lens models:
EOS-1D X Mark III (released in February 2020), EOS-1D X Mark II (released in February 2016), EF11-24mm f/4L USM (released in February 2015), EF16-35mm f/2.8L III USM (releases in October 2016), EF24-70mm f/2.8L II USM (released in September 2012), EF70-200mm f/2.8L IS III USM (released in September 2018), EF70-200mm f/2.8L IS II USM (released in March 2010), EF24-105mm f/4L IS II USM (released in October 2016), EF100-400mm f/4.5-5.6L IS II USM (released in December 2014). As of July 19, 2021.